20 Long Distance Gift Ideas for Women 20 Gifts To Send Your Long Distance Lover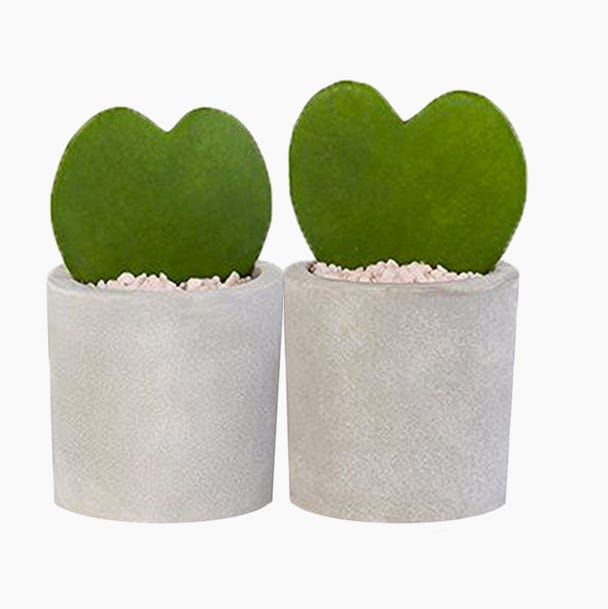 Courtesy
Long distance relationships are hard. For those who are separated from the one they love, it can be challenging to keep the flame alive. Now is a good time to send them a sweet reminder that shows they are on your mind. Express it with a handwritten love note, a huggable pillow, or even ice cream with our roundup of twenty sweet gifts for your far-flung partner, here.
1 of 19
Lips, Lips, Lips Stationary
Remember when people wrote love letters? 
2 of 19
Desert Love
The Bouqs
bouqs.com
$44.00
Show that your love continues to grow daily.
3 of 19
Sexy Truth or Dare
UncommonGoods
uncommongoods.com
$14.95
Make your Zoom calls just a tad more exciting. 
4 of 19
Lovebox Messenger
Send special love messages to let your partner know they are always on your mind.
5 of 19
Assorted Box
Pizza Cupcake
pizzacupcake.com
$49.90
Pizza is good for the mind, body and soul.
6 of 19
Huggable Heart Cooling & Heating Pad
Urban Outfitters
urbanoutfitters.com
$32.00
 Heat things up or cool things off with a heart heating pad.
7 of 19
Love Candle
Homesick
homesick.com
$29.95
Finally love has its own scent (and it smells like lemon, jasmine, and sandalwood).
8 of 19
100 Movies Scratch Off Poster
Uncommon Goods
uncommongoods.com
$15.00
Do a couples challenge together to watch the top films of all time. 
9 of 19
Custom Star Map
The Night Sky
thenightsky.com
$120.00
Capture a special moment like your first date or the place you met with a custom star map.
10 of 19
Body Pillow
Coop Home Goods
coophomegoods.com
$69.99
For when your lover is too far away to hug or cuddle with, here's a big pillow to keep you warm.
11 of 19
Pick Your Own Mix
Jeni's Ice Cream
jenis.com
$12.00
Sweet treats for your your sweets.
12 of 19
Cotton Napper
Bearaby
bearaby.com
$249.00
Self-soothing weighted blankets are described as a literal hug. 
13 of 19
Aluminum Lightning Charging Stand
Satechi
satechi.net
$24.99
Keep their phone charged and hands free on this chic aluminum stand. 
14 of 19
Wine Subscription
Your lover will think of you (and thank you) at every sip.
15 of 19
Hotel Credits
Porter & Sail
porterandsail.com
$200.00
Give the gift of something to look forward to by purchasing hotel credits at top hotels and resorts around the globe.  
16 of 19
Moon Lists: A Guided Journal
Anthropologie
anthropologie.com
$14.99
Pass the time away and days apart with a journal for self-reflection.
17 of 19
Masterclass
Masterclass
masterclass.com
$180.00
The couple that learns together, stays together.
18 of 19
Color Series Photo Book
Artifact Uprising
artifactuprising.com
$20.00
Savor all of the fun moments in a special photo book. 
19 of 19
"The Martini" Emotional Detox Bath Soak
Being without your partner can be stressful. Help them take the edge off of things with detoxifying bath salts. 
Advertisement – Continue Reading Below
This content is created and maintained by a third party, and imported onto this page to help users provide their email addresses. You may be able to find more information about this and similar content at piano.io
This commenting section is created and maintained by a third party, and imported onto this page. You may be able to find more information on their web site.