American Adventure-Ready Timepieces : Shinola Duck Watch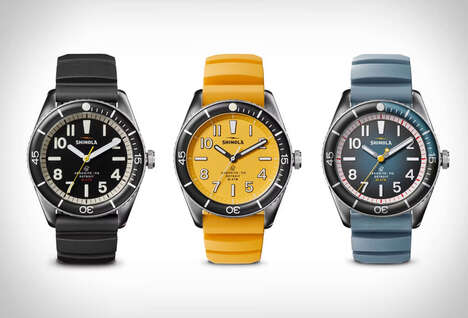 The Shinola Duck Watch is a proudly American timepiece focused on performance and style for a balanced accessory that's ready to provide rugged resilience on ones's wrist. The watch is hand-assembled in Detroit with Swiss and important parts, and is built to effortless withstand hardcore adventures in the ocean or the bush. The water-resistant surfer timepiece boasts a stainless steel case with a screw-down crown to match along with a unidirectional bezel, SuperLumi-Nova on the hands and dial, an extra-thick sapphire crystal lens and even an expandable rubber strap.
The Shinola Duck Watch comes in three color options including a distinctly oceanic blue, a bright canary yellow and a demure black. Priced at $650, the timepiece is available now.