Brighton Royal Sussex hospital staff member injured in stabbing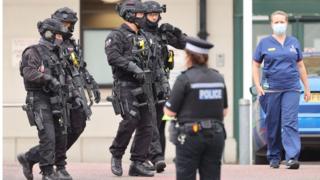 A man has been arrested on suspicion of attempted murder after a member of staff was stabbed at a hospital.
The 56-year-old victim was attacked at Royal Sussex County Hospital in Brighton, at about 08:40 BST.
His injuries are not life-threatening and he is "stable and safe", the hospital trust said.
The hospital was placed in lockdown as teams of armed police responded before a 30-year-old man was arrested in nearby Wilson Avenue at about 09:40.
Access to the hospital was restricted for much of the day as police conducted searches.
At 16:00, Brighton and Sussex University Hospitals NHS Trust tweeted that the hospital was "running normally".
It thanked Sussex Police for its "rapid and professional response" and hospital staff "whose performance has been exemplary throughout".
'Absolutely terrified'
Local resident Maurine Bannister witnessed the aftermath of the arrest.
She told the BBC: "My grand-daughter came running through saying there's policemen out there with guns. She was absolutely terrified.
"So we went and looked and there was more police cars than I've ever seen. We counted at least 30 police officers, all armed."
Hospital patient Gareth Cronin, from Hove, told the BBC: "I was just in having an X-ray and I came out and there were 15-odd armed police in the A&E.
"I had to wait in there for about two and a half hours. I was quite shocked."
Sussex Police said the "apparently isolated and unexplained" attack was not being treated as terrorism.
It said officers worked quickly with hospital security staff to ensure nobody else was injured and "staff and patients were safe".
"There is currently nothing to suggest that any other person has been involved or that anyone else is at risk," it added.
Sussex Police and Crime Commissioner Katy Bourne called it a "dreadful event" and said her thoughts were with "the injured NHS staff member's family and those police officers and health colleagues at the scene".
Kemptown MP Lloyd Russell-Moyle told the BBC his thoughts were with the worker and his family.
He added: "Last year Labour passed (through a back bench Bill) a law to ensure that people who assault NHS workers got double time.
"This will be no relief to the person who was stabbed but I hope it will ensure justice can be delivered when the person is brought to book."
Hove and Portslade MP Peter Kyle tweeted that it was "shocking news" but thanked police for a "swift arrest" and wished the staff member a "speedy recovery".