Carbon Electric Mountain Bikes : 2022 husqvarna mountain cross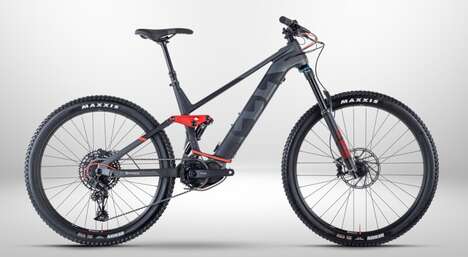 'Husqvarna,' the Stockholm-based multipurpose production company, unveiled the 2022 Husqvarna Mountain Cross 6 as its latest electric mountain bike (e-MTB).
The Mountain Cross variety is targeted for durable off-roading with enhanced shocks, durable frames, and a reliable fork. The bike features an 'FOX Float DPS Performance,' 205x60mm shock that enables it to resist the off-road terrain of mountains and dirt paths. On top of this, the front wheel on the bike is slightly larger than the rear wheel at sizes of 29″ and 27.5″ respectively, which results in a comfortable ride position even when riding up or down a hill.
The Husqvarna Mountain Cross 6 has a high-capacity 630 Wh, 36-volt battery that delivers consistent power to its 250 W, 85 Nm motor. The frame of the bike is made out of carbon while the remainder of the pieces are shaped out of stainless steel. The bike is available now at Husqvarna's online store, as well as participating third-party retailers, at an MSRP of €8,899, or approximately $9,595 USD.
Image Credit: Husqvarna