Celebrity-Branded Fragranced Home Products : Homecourt Range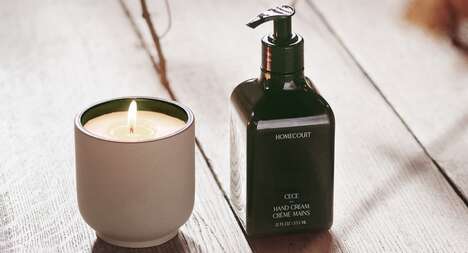 Courteney Cox's Homecourt range is expanding to include four new natural aromatic fragrances. The clean beauty and household care brand introduced a new fragrance-infused hand cream and candle scents. Available in cece, steeped rose, neroli leaf, and cypress mint, the fragrances boast relaxing aromas.
The candles are hand-poured into a kiln-fired ceramic vessel. Each one is designed to enhance the ambiance of any space and burns for up to 60 hours.
The hand cream is designed to renew and restore moisture to dry hands. formulated with a luxuriously velvet feel, the cream absorbs instantly to treat hands in need. It boasts a non-greasy feel and is made with Australian hibiscus flower, shea butter, and fermented microalgae oil.
Image Credit: Homecourt