Connection-Focused Jewelry : Anna Beck Jewelry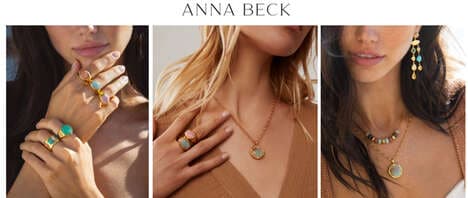 Anna Beck Jewelry is a female-founded brand. The company celebrates the beauty of connection with its highly-anticipated Rasa Collection. The collection returns for the spring/summer months with a seasonal palette.
Anna Beck's Rasa Collection features uniquely designed pieces made with gold vermeil and unique natural stones. The featured stones include Amazonite, Pink Opal, Turquoise, Sunstone, and Aquaprase. Each piece is inspired by Hindu Art Practices. Overall, the new Spring/Summer range creates a connection between traditional Balinese craftsmanship and modern, experimental techniques. Handmade by artisans in Bali, the Rasa collection harnesses the power of heritage and tradition to create art-informed pieces in shades of pastel. Anna Beck's new items are available through the brand's online website.
Image Credit: Anna Beck Jewelry