Coronavirus: Scottish schools aim to reopen full-time in August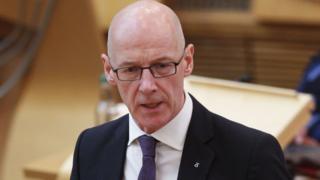 Scottish schools are aiming to re-open full-time with no physical distancing in August if coronavirus continues to be suppressed, John Swinney has said.
Schools had been preparing to return with a "blended" model of face-to-face teaching and at-home learning.
But the education secretary said "significant progress" had been made in controlling the spread of the virus.
Mr Swinney said ministers were now preparing for all schools to open full-time in August.
He had previously targeted having pupils spend at least half their time physically in the classroom, leading to concerns from parents.
Schools have faced difficulty in working out how to bring pupils back in August while maintaining the current 2m (6ft 6in) physical distancing rule, leading to the blended learning plans.
First Minister Nicola Sturgeon has ordered officials to review whether the distancing rule could be relaxed in some circumstances. Northern Ireland is set to use a 1m rule for school pupils, while England will move to a "one metre plus" rule from 4 July.
Mr Swinney said the blended learning plan was a "necessary" contingency plan, which may still be needed if there is a fresh outbreak of Covid-19.
He said that when the plans were first drawn up in May, he "would not have imagined" that as much progress could have been made in suppressing the virus.
He said this progress meant plans could now be made for a full-time return to schools, on the condition the virus continues to be suppressed and "the right protective measures" are put in place in schools to keep staff and pupils safe.
The education secretary also announced an extra £100m of funding over two years to help children return to school and "recover any lost ground".