Coronavirus: What tests are being done in the UK?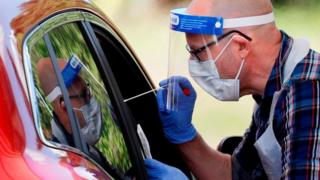 The government must publish figures on how many coronavirus tests are being processed within 24 hours, Health Select Committee chair Jeremy Hunt has said.
On Friday 26 June, Mr Hunt wrote to the prime minister for the second time since he pledged to have all tests turned around within this timeframe by the end of June.
There are also concerns the public is not aware that anyone with symptoms should now apply for a test – vital if the contacts of positive cases are to be traced and local outbreaks contained.
Can I get tested?
Tests are now available to all adults and most children in the UK with a fever, a new continuous cough or a loss of smell or taste.
In England and Wales you can apply for a swab test for yourself, or for anyone in your household, if you or they have symptoms
In Northern Ireland and Scotland anyone over the age of five with symptoms can get tested.
People working or living in care homes can be tested even if they don't have symptoms.
Why is testing important?
Testing is essential if contact-tracing systems now in place across the UK are to work effectively, help stop the spread of the virus and avoid the need for UK-wide lockdowns.
And in theory it can help people, including NHS workers, know whether they are safe to go to work.
Representatives of hospital trusts and care home providers say staff need to be tested regularly, not as a one-off, to ensure this.
But a letter sent to hospital bosses indicated this is not the current plan for NHS staff.
Testing can also let the health service plan for extra demand, and inform government decisions around social distancing.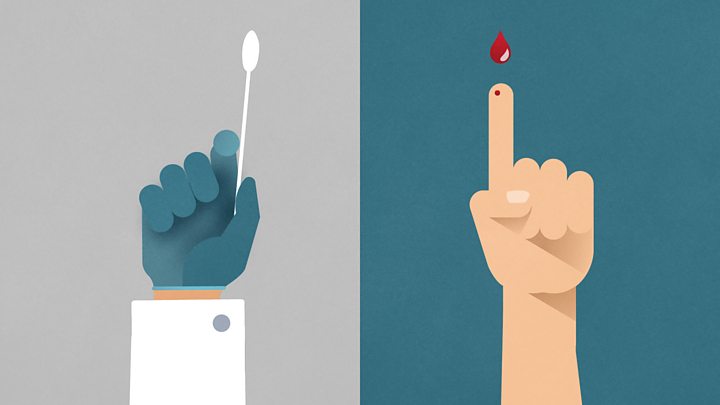 What is contact tracing?
People who test positive for Covid-19 will be told to self-isolate for 14 days – and their recent close contacts will be traced and told to do the same, even if they don't have symptoms.
Close contacts include household members and anyone who has been within 2m (6ft) of the positive person for more than 15 minutes.
Read more about contact tracing in England, Scotland, Wales and Northern Ireland.
How reliable are the tests?
Scientists at the University of Bristol believe 20% of positive cases could falsely appear as negative, wrongly telling someone they are not infected.
This can be because the swab sample wasn't good enough, the stage of infection someone's at when tested, or problems in the lab.
The Hospital Consultants and Specialists Association (HCSA), which represents hospital doctors, has called for NHS staff to be tested more than once.
How does the test work?
The test finds out if you currently have the virus.
It involves taking a swab up the nose and the back of the throat, which can be done by the person themselves or someone else.
These tests won't show if you have had Covid-19 in the past.
Antibody tests – which do look for evidence of past exposure – use blood samples.
The UK now has capacity for about 80,000 antibody tests a day, but these are only offered to health and care staff. They're also used to test random samples of people to estimate the level of exposure across the country.
How long does it take to get a result?
Couriers collect samples and take them to laboratories.
Prime Minister Boris Johnson has pledged tests would be processed within 24 hours by the end of June, except where there were difficulties with the post.
Baroness Dido Harding, the head of the Test and Trace service, has previously said 84% of drive-in centre tests come back within a day. No figure has been provided for home kits.
Speed is important because delays give the virus more time to spread.
How many tests are being carried out?
On 24 June, 167,023 tests were provided, including antibody tests and testing kits posted out to homes – some of which may never be returned.
It also includes tests carried out as part of a surveillance study by the Office for National Statistics, which don't serve the purpose of diagnosing individuals.
During the coronavirus epidemic, the government has been challenged over its testing capacity and the data presented at daily briefings.
For example, on 7 June, Matt Hancock announced the UK had exceeded its target to increase coronavirus testing capacity to 200,000 a day by the end of May.
But only about 115,000 tests were actually carried out in the 24 hours to 09:00 BST that day.
The chairman of the UK Statistics Authority criticised the presentation of the daily figures, saying they appeared to be aimed at showing "the largest possible number of tests, even at the expense of understanding".
They also don't reflect the number of people tested, because some people are tested more than once. That might be to prove they no longer have Covid-19, or because a negative result appears incorrect given their symptoms, or because the first test didn't work.
A government spokesperson said it was working with statisticians and that the approach throughout had been to "increase transparency".
Where do I get tested?
There are several options.
You can travel to a drive-through testing site, visit a mobile testing unit or get a home testing kit delivered.
Testing at an NHS facility, such as a hospital, is available for patients and some NHS workers.
Follow Rachel on Twitter
What do I need to know about the coronavirus?
---
Have you been tested? Or are you waiting for a test?
Please include a contact number if you are willing to speak to a BBC journalist about your experience.