Customized Luxury Timepieces : 2c 1 lettercutter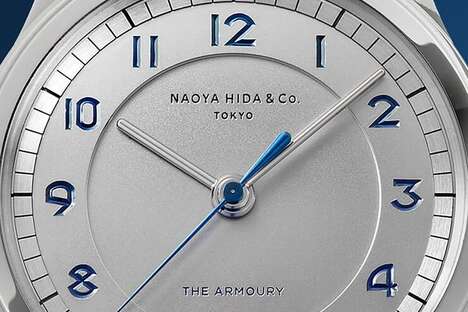 Naoya Hida & Co. announced a new limited-edition timepiece named the 'Type 2C-1 Lettercutter.' This watch will be exclusive the 'The Armoury,' a luxury retailer that collaborated with the watchmaker on the exclusive item. The name Lettercutter comes from the font used on the typeface of the watch, which differs from previous Naoya Hida & Co. watches. Additionally, the numbers on the dial on this timepiece are filled in blue, whereas the watchmaker traditionally uses black.
The remainder of the watch is modern and minimalist. The dial features a textured white-silver base with electric blue accents. The names of both Naoya Hida & Co. and The Armoury appear on the dial at the top and bottom center. The rear side of the watch features bright gold lettering on a solid backplate that reveals only certain parts of the automatic chronograph to create an understated luxury appearance.
Image Credit: Naoya Hida & Co.