Easy-to-Apply Kids Mineral Sunblocks : mineral sunscreen range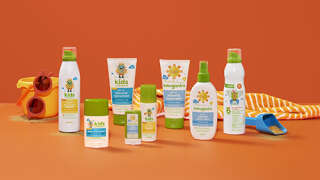 The Babygenics mineral sunscreen range is being expanded with new products to help parents keep little ones protected from harmful UV rays this summer. The product range now includes the Babyganics Kids Roll On 50 SPF and the B Kids SPF 50 Non-Aerosol Sunscreen Spray, which both highlight ease-of-use when it comes to application. Both products are formulated with an all-mineral active ingredient formula that has no fragrances, nanoparticles, phthalates or parabens in the mix.
The new additions to the Babygenics mineral sunscreen range offer broad-spectrum SPF 50 UVA/UVB protection, and are resistant to both sweat and water for up to 80-minutes. The products are all pedestrian-tested, dermatologist-tested, tear-free, non-allergenic and not tested on animals, according to the company.