Eco-Friendly Luxury Brand Collaborations : Kempinski Hotels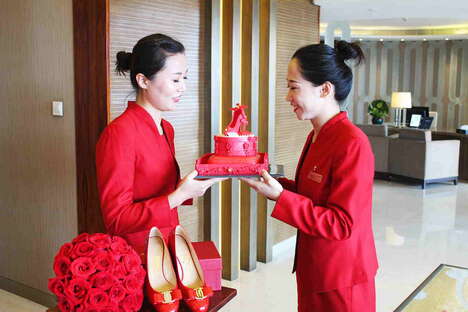 Kempinski Hotels and Italian luxury fashion brand Salvatore Ferragamo teamed up to offer tailor-made hotel amenities that are steeped in Ferragamo style. The luxury brand collaboration is built on shared values like a pursuit of excellence and a focus on sustainable practices. The Ferragamo amenities, which will be offered in Kempinski Hotels, are made with 100% recycled plastic, realizing the brands' commitments to the environment.
Kempinski Hotels will also sell perfumes and home fragrances from Ferragamo on its website, further solidifying the collaboration. Top hotel guests will get exclusive access to Ferragamo's boutiques in the form of dedicated events. Alongside the luxury products, Kempinski Hotels' brand ambassador, the Lady in Red, will receive a pair of red Vara shoes from Ferragamo as a visual flair of elegance and refinement.
Image Credit: CPP Luxury