Energy-Reflecting Workout Tees : workout tee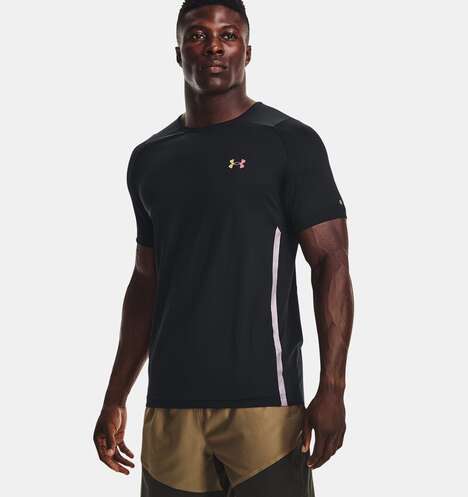 The concept of energy return is commonplace in running shoes, but Under Armour is applying the notion to training apparel with spectacular and scarcely believable results as exemplified by the 'UA RUSH 2.0 Vent' workout tees, which harness the heat and energy that your body generates during intense workouts to help you push yourself farther and harder.
This isn't sci-fi marketing lingo but proven science thanks to Under Armour's collaboration with Celliant, which has developed a performance textile that converts body heat into infrared energy. In a nutshell, Celliant's high-tech material transforms your body heat into full-spectrum infrared energy before reflecting it back to your tissues and muscles, unhindered by the layers of textile in between. This helps to boost blood circulation and ensures that cells get plenty of oxygen. As a result, your energy levels are boosted and fatigue mitigated, which may result in you crushing personal records and astonishing all and sundry with your endurance. Performance aside, this feature also ensures that your recovery is kickstarted, putting you in a better position to crush it on your next workout.
The 'UA RUSH 2.0 Vent' workout tees also feature a range of other technical traits including carefully located mesh panels for breathability, sweat-wicking that keeps you dry and anti-odor technology that curbs stench-inducing microbes.
Finally, it's difficult to overstate the aesthetic appeal of these workout tees. The slick reflective tape down the sides of the tee appears to move between shades of dull silver and subtle purple depending on the angle and lighting, with similar reflective material also used for the Under Armour logo. Elsewhere, the tee has a streamlined fit that is neither baggy nor gratuitously tight, with Under Armour opting for a flattering fit without compromising on performance or comfort. Designed to make you look good, feel good and elevate your performance, the 'UA Rush 2.0 Vent' workout tees are undoubtedly a steal at $55.
Image Credit: Under Armour