Eye-Catching Water Shoes : Hydro Moc Drift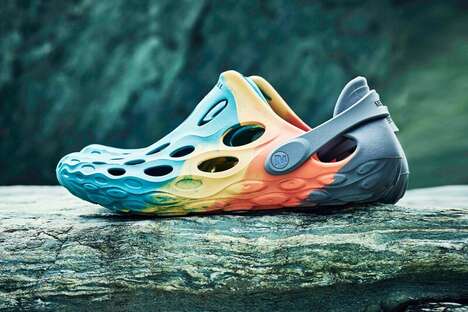 Outdoor footwear brand Merrel has officially added new models to its Hydro Moc water shoe line with the launch of the Hydro Moc Drift. The new shoe comes equipped with the brand's signature 'FLOAT PRO' EVA technology and 'BLOOM' materials, both of which are made from algae.
The new water shoes come in a range of tonal and gradient-based colorways, including 'Merrel Blue,' 'Maple,' and 'Pomelo.' However, a standout version is a new gradient 'Tangerine/Gold/Teal' Hydro Moc Drift, as its eye-catching hues and unique rubber construction make it a particular one-of-a-kind water sneaker.
For those interested, the Hydro Moc Drift is now available to purchase on Merrell's website and at select retailers throughout the united states. The shoes are also being offered in both men's, and women's. and kid's sizings.
Image Credit: Merrell