Futuristic Sneaker Exhibits : future now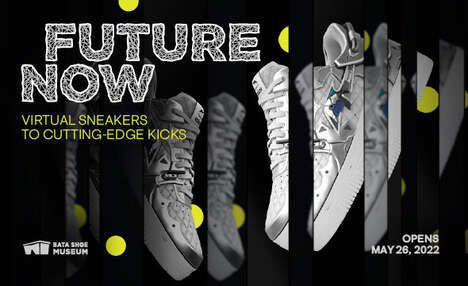 The Bata Shoe Museum, an attraction for both footwear history and landmark footwear trends, announced the 'Future Now' exhibit. The event will display everything from "virtual sneakers to cutting-edge kicks" across four main categories. These categories are Innovation, Sustainable, Transformative, and Virtual. The museum offered a sneak peak of some noteworthy examples in each category.
For the innovative footwear, the Bata Shoe Museum is featuring the 'Nike MAG,' an accessible pair of shoes that fastens itself around the wearer's foot automatically. On the sustainability side, the 'FW_D XP4_Mavy' sneaker is made entirely out of recyclable materials. The pieces that represent the transformative category are norm-defying, artistic pieces that capture the reaches of footwear's potential. Lastly, the virtual category will showcase shoes created in or for virtual reality (VR) as well as shoes that are used for other digital ventures.
To celebrate this noteworthy footwear showcase, the Bata Shoe Museum is also releasing a book titled 'FUTURE NOW' that features everything from interviews to innovative designs. The event opens to the public Thursday, May 26th and runs until October of 2023.
Image Credit: Bata Shoe Museum