Here's How India Celebrated Yoga Day along with PM Narendra Modi
Today the whole world celebrates the fifth International Yoga Day. Prime Minister Narendra Modi led the celebrations with a grand start in Ranchi today a while ago. Along with PM, there were several other ministers, including Rajnath Sing, Yogi Adityanath, etc., enthusiastically participating in the celebration from their respective places. Let's take a look at how the world celebrated International Yoga Day 2019: 
UP Governor Yogi Adityanath Celebrates Yoga Day 
The CM of Uttar Pradesh, Yogi Adityanath, showed full support by becoming a part of the yoga day celebrations. Keeping in line with the main event at the Raj Bhawan, Yogi Adityanath was a part of the celebrations held at Lucknow, promoting yoga and its benefits. With him at the event was the BJP state vice-president Vidyasagar Sonkar. All ministers from UP organised events at their respective districts, spreading awareness about yoga and its health benefits. 
अंतरराष्ट्रीय योग दिवस का उद्देश्य भारतीय संस्कृति की अमूल्य धरोहर योग के असंख्य लाभों के विषय में संसार में जागरूकता फैलाना है।
आज अंतरराष्ट्रीय योग दिवस के अवसर पर राजभवन,लखनऊ में आयोजित सामूहिक योगाभ्यास कार्यक्रम में माननीय राज्यपाल आदरणीय श्री राम नाईक जी के साथ।#YogaDay2019 pic.twitter.com/HY0cwzBleW

— Yogi Adityanath (@myogiadityanath)
June 21, 2019
Army Dogs Also Become a Part of the Celebrations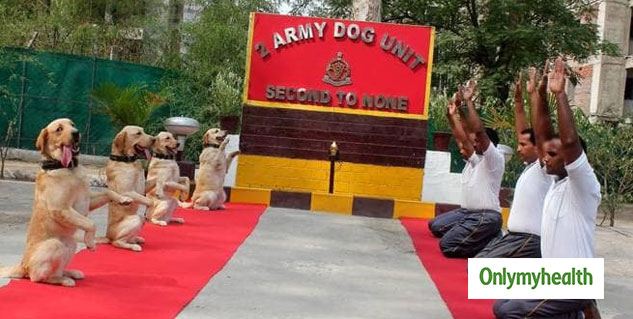 It was an adorable sight to see the Army Dogs paying their respect to this day of world importance. Also known as Doga, this sport for dogs are initiated by a person named Suzi Teitelman in 2002 in New York. In Jammu, the dog squad of Border Security Force looked super cute while performing different asanas of yoga. 
Indian Navy personnel in Chennai Show Full Support
The Navy personnel and Central Industrial Security Force in Chennai participated in the yoga day celebrations in full strength at Marina Beach. The participants displayed full enthusiasm by doing yoga at the beach, spreading the message of 'Yoga for All'. This day is celebrated across with people joining in with Prime Minister Narendra Modi. 
Chennai: Yoga being performed by Indian Navy and Central Industrial Security Force personnel at Marina Beach. pic.twitter.com/lpQ0jgwkqc

— ANI (@ANI)
June 21, 2019
ITBP at Indo-China border Join in 
The celebrations were in full swing at the Indo-China border in Himachal Pradesh as well. The ITBP personnel showed full support in PM Narendra Modi's endeavour. 
Himachal Pradesh: ITBP personnel performed yoga on International Yoga Day at Indo-China border in Kinnaur district. #YogaDay2019 pic.twitter.com/z1IAYxKy4J

— ANI (@ANI)
June 21, 2019
BJP leader Ram Madhav in Trivandrum
The BJP leader Ram Madhav also participated in this endeavour by performing yoga in full swing in Trivandrum. He said during the celebration that yoga is a practice, which helps control ourselves. It was PM's vision to make this world a beautiful and safe place to live. 
Kerala: Ram Madhav, BJP National General Secretary, performs yoga at an event in Trivandrum. #InternationalDayofYoga pic.twitter.com/DQCpOa4HZT

— ANI (@ANI)
June 21, 2019
Union minister Smriti Irani in New Delhi 
The much-loved Smriti Irani was seen striking yoga poses with the residents of Bijwasan in New Delhi on the 5th International Yoga Day 2019. Everyone joined in the celebrations with a common aim of making yoga a worldwide phenomenon. 
Celebrated #YogaDay2019 by performing Yoga with citizens of Bijwasan in Delhi. pic.twitter.com/zjPqhKYnjG

— Smriti Z Irani (@smritiirani)
June 21, 2019
Read more articles on
Yoga