Hyper-Versatile Outdoor Shorts : outdoor shorts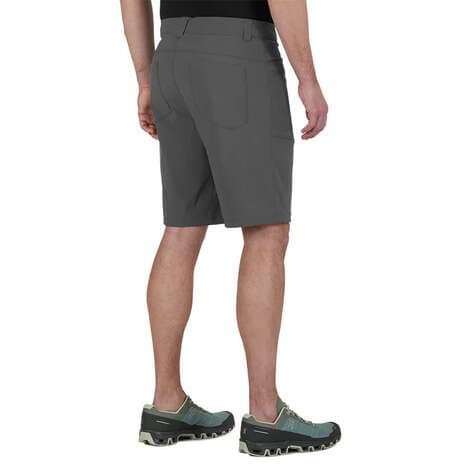 Outdoor Research understands that the most sophisticated outdoor apparel enthusiasts like to keep things light and invest in fewer pieces of higher-quality clothing that can tackle different environments with ease, and that's exactly the ethos that is evident in the 'Equinox' outdoor shorts. These outdoor shorts are crafted with sustainable Bluesign-certified 95% nylon and 5% spandex sheathed in UPF 50+ sun protection as well as durable water repellent. This allows these shorts to boast a litany of features that run the gamut from wind-resistant and water-resistant to breathable, lightweight, quick-drying and sun-shielding.
What's great about the 'Equinox' outdoor shorts is the fact that its key features don't come at the cost of other attributes. For example, movement-mirroring stretch often comes at the cost of durability, but the 'Equinox' shorts somehow manage to to maintain just the right amount of sturdy stiffness regardless of whether you're scrambling across rocks, relaxing on your stand-up paddleboard or dozing off on a train. Lightweight and quick-drying, these shorts are the ideal companion for any outdoor environment, especially if you're an ultralight packer.
They also offer a range of features that make them excellent for travel, including a security zip pocket, rear drop-in pockets and a drawcord waist for maximum comfort regardless of whether you're on the move or are strictly stationary.
Another area where these outdoor shorts outshine the competition is aesthetics, with the streamlined styling ensuring that you can get off the plane, embark on a hike, wander around a local market and end up on your hotel's patio bar without looking remotely out of place. Available for $69, the 'Equinox' shorts well and truly kill several proverbial birds with one stone.
Image Credit: Outdoor Research