I still have a very long way to go and believe that I can get better, really want to do well in 2024 Olympics: Srikanth Kidambi | Badminton News
In 2017 Srikanth Kidambi became the first Indian and just the fourth male badminton player to win as many as four Super Series titles in one year. In April next year he was ranked world number one and the same year he was given the fourth highest civilian honour, the prestigious Padma Shri.
Srikanth was recently a guest on Times of India's sports podcast Sportscast and talked about his badminton journey so far, family support, the roller coaster ride he has had since 2018, the upcoming
Commonwealth Games
and much more.
"Since 2018, there have been a lot of ups and downs – there were a lot of highs and there were a lot of lows. 2018, after a very good 2017, we won the gold at the CWG, where I also won the silver (singles) and became world number one, then Asian Games – I got injured after that – 2019, the qualification period started. By the end of 2019 I really started playing well (again). I played the semi-final of a Super Series and then in 2020 I played a semi-final and there were decent performances, but then Covid-19 happened and the
Olympics
got pushed to 2021. Again in 2021, I started off really well but then the tournaments got cancelled and I couldn't qualify for the Olympics – these were all the lows that I went through. But since September (2021), since the tournaments resumed and since the time I started playing tournaments again I slowly started to do well. I start off with a couple of quarter finals and semi-finals and then the World Championship finals (won silver) and then the Thomas Cup win – it's a steady graph I feel and that is always good I think, because it shows that you are improving every day," Srikanth Kidambi said on TOI Sportscast.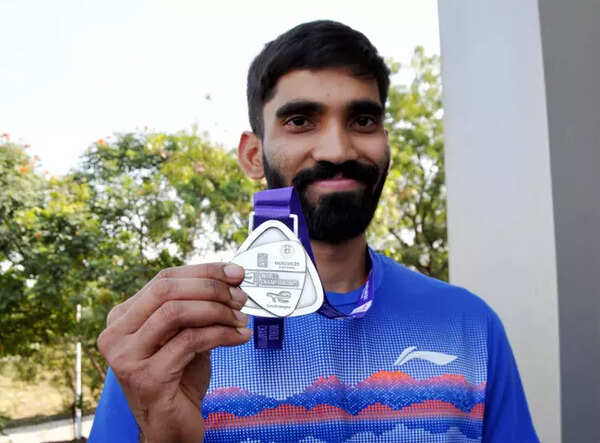 (TOI Photo)
Though his world ranking currently reads – 11, Srikanth is considered to be a player who on his day is capable of beating any player in the world, regardless of ranking etc., Srikanth touched a new high in his career last year when he became the first Indian male shuttler to enter the final of the World Championships. He went on to win the silver.
And then his win vs higher ranked Jonatan Christie in the final of the Thomas Cup gave India their first title triumph in the prestigious team tournament, beating 14 time champions Indonesia 3-0 in the final. Srikanth was the India team captain and was unbeaten in the tournament.
So, where does he feel his game stands currently? Does he feel like he is being able to push newer boundaries?
"I feel that I am getting better. I feel that I am being able to play the way I want to and I still believe that I can become better from here. I have the 2024 Olympics on my mind, so from here I feel that I still have a very long way to go, I feel that I can get better. So I am just trying to be consistent, work on myself and try to get better with each session (practice) and do well in the big matches. Unfortunately the Asian Games were postponed, but there are the CWG and the World Championships this year. I also really want to do well in the 2024 Olympics in Paris," the former World Number 1 further said on TOI Sportscast.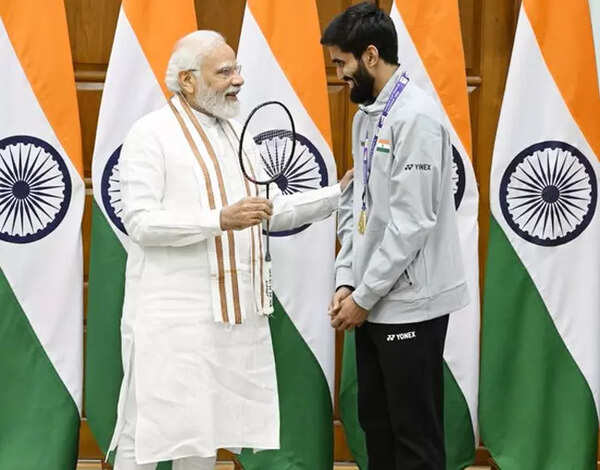 An Olympic medal of course is understandably the ultimate target for Srikanth, especially considering he missed the flight to Tokyo after multiple events were cancelled which affected his chances of qualification for the last edition. In Srikanth and Lakshya Sen, India have two big potential medal prospects in the men's singles draw at the next edition in 2024 in Paris. Srikanth of course will be hoping and working very hard to ensure that that steady graph he has been working on doesnt dip as he eyes his maiden Olympic medal.
The next edition of the Commonwealth Games meanwhile starts on the 28th of this month in Birmingham and Srikanth has said earlier that India has the potential this time to sweep all the gold medals across events. In the last edition of the Games in the Gold Coast in 2018, Srikanth won the silver medal in the men's singles and was also part of the gold medal winning mixed team. Overall India returned from the 2018 edition with 2 gold, 3 silver and 1 bronze medals.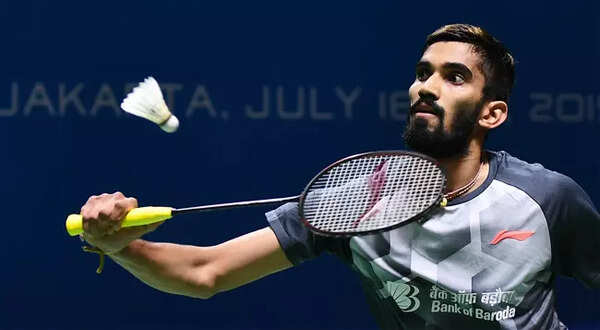 (Photo by Robertus Pudyanto/Getty Images)
The 29 year old Srikanth likes what he sees when he goes through the list of Indian badminton players who are headed to Birmingham for the Commonwealth Games. The Indian squad picked for the Games has the likes of Srikanth himself, PV Sindhu, Lakshya Sen, Chirag Shetty, Satwiksairaj Rankireddy, Ashwini Ponnappa, Gayatri Gopichand among others.
"I definitely think this (current Indian contingent for CWG 2022) is one of the strongest and it's also been a fair selection – selection trials happened and the team was selected via that, so I feel it's one of the best (Indian contingents), because we also won gold last time in the Team event, so I don't really want to compare this team with that one, but as of now I feel this team is one of the strongest," Srikanth said on TOI Sportscast.
You can listen to the full episode of TOI Sportscast with Srikanth Kidambi here: