Luxury Paper-Like Sneakers : replica sneaker 1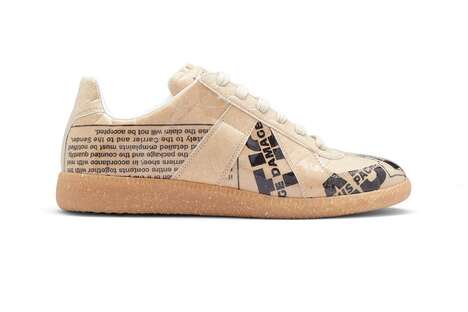 Maison Margiela's 'Replica' sneaker comes in a sandy beige shade, covered by newspaper-like designs. Bold black text runs across the toebox and uppers, featuring language that resembles the text that would be on a shipping label or packing box. The material of choice adds crinkled detailing, mimicking the effect of a crumpled piece of paper, and uses a beige rubber sole with white specks on it. Margiela's number logo rests on the tongue, tied together by a signature Margiela thread on the heel.
The 'Replica' sneaker has already been solidified in the footwear industry, holding a position as one of Margiela's most popular shoes. The silhouette continues to be revamped and reinvented, standing the test of time. The 'Replica' sneaker is priced at $740 and is now available on the Maison Margiela website.
Image Credit: Maison Margiela