Portable Tabletop Barbecues : Portable Tabletop Barbecue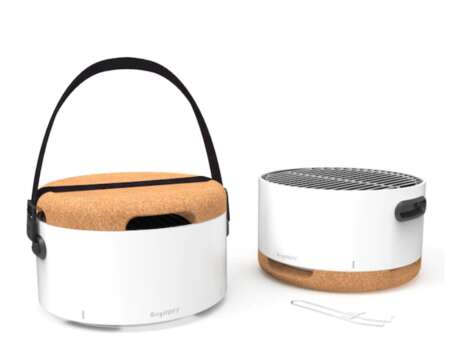 Whether you're headed to a picnic in the park, a weekend camping trip, or a friend's backyard for dinner and drinks, grilling a quick burger has never been easier than with this portable tabletop barbecue. With a small, compact design, weighing less than 20lbs, and equipped with a sturdy strap for carrying, Berghoff's portable tabletop barbecue is easy to bring along for your next outdoor getaway.
The barbecue's cork lid makes for neat packing when you're on the go and doubles as a heat-proof base for the tabletop when you're in grilling mode, cooking up some sausages or veggie skewer. The barbecue uses charcoal fuel. As a result, it is easy to disassemble for convenient cleaning once dinner is finished. Berghoff's portable tabletop barbecue comes in either black or white.
Image Credit: Berghoff