Posh Planetarium-Inspired Timepieces : Gucci Planetarium Watch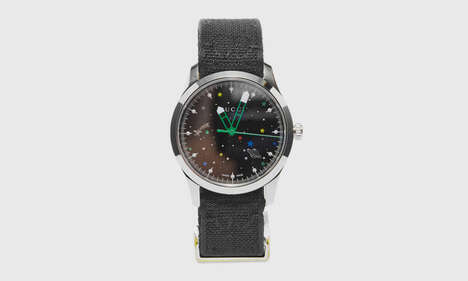 The Gucci Planetarium Watch is a high-end timepiece from the fashion brand focused on a playful aesthetic to make it relevant for young fashion enthusiasts to incorporate into their collection. The timepiece isn't characterized by a mechanical movement, but instead opts for a reliable quartz movement inside its 38mm case. The dial on the watch is covered with a series of multicolored stars along with metallic planets and shooting stars to highlight the accessory's planetarium-inspired design.
The Gucci Planetarium Watch is paired with a recycled nylon strap emblazoned with the brand's signature logo and features a sapphire glass crystal for enhanced durability. The watch is priced at $959 and is likely to be favored by the growing number of young consumers becoming more interested in high-end fashion products.