Richard Madeley sorry for 'misjudged' domestic violence advice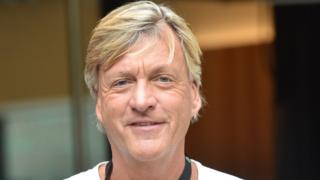 Richard Madeley has apologised after he was criticised for giving "dangerous" advice in a newspaper column.
He was accused of downplaying a reader's fears that their neighbour might be suffering domestic violence.
Writing in Saturday's Daily Telegraph, Madeley told the reader: "If they were going to kill each other, they'd have done it by now."
On Tuesday, the TV presenter said he was "so annoyed" with himself for having "misjudged" his response.
"My critics today are absolutely right," he wrote.
"I misjudged this one, tonally and in content. So annoyed with self."
Madeley added that he had "reached out" to various people to apologise, and that he would address the topic in his column next weekend.
The letter, from an anonymous reader in Bedfordshire, was printed under the heading: "What shall I do about my noisy nocturnal neighbours?"
It described "bangs and crashes and shouting" coming from the property "most nights".
"I worry that something could come to light in the future and I would feel guilty because I did nothing, despite a gut feeling that things are not right," the letter went on.
Madeley responded by saying that: "If some sort of serious abuse was involved you'd have noticed it (in the form of black eyes, cut lips and the like, or late night visits from the police after drunken 999 calls)."
'Appalling and dangerous advice'
He concluded: "If they were going to kill each other, they'd have done it by now."
Madeley was criticised by charities including Standing Together Against Domestic Violence and Refuge.
"This is appalling and dangerous advice," tweeted Refuge, demanding a retraction.
"Women live in fear of their partners across the country – many are isolated and alone; Literally trapped. Women's lives depend on people calling out abuse."
What's the advice if you hear suspected domestic violence?
The Women's Aid charity suggests that if you hear an incident and think your neighbour is in danger, to contact the police.
"The police have a responsibility to respond and to undertake a risk assessment where there is domestic abuse taking place," the Women's Aid advice says.
"If there are children in the house and you are concerned for their safety, you could consider contacting social services. They would be able to work with the woman to help her protect her children from harm.
"If possible, you could mention to your neighbour that you've overheard some fighting and that you're worried about her. You can then encourage her to seek some help. There will be options available to help her put a stop to what's going on."
Visit the BBC Action Line website for details of organisations that can help with information and support with domestic abuse or violence.
Follow us on Facebook, or on Twitter @BBCNewsEnts. If you have a story suggestion email entertainment.news@bbc.co.uk.