Russia report: Julian Lewis appointed chair of intelligence committee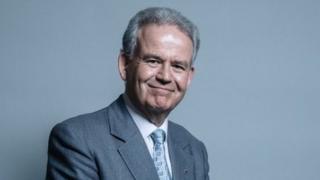 Conservative MP Julian Lewis has been appointed chair of the Intelligence and Security Committee, not Chris Grayling as had been expected.
Concerns had been raised that the body's impartiality could be undermined, and members of the committee backed Mr Lewis instead.
The committee scrutinises the work of the intelligence and security services.
It is due to publish a long-awaited report on alleged Russian interference in UK politics.
Publication has been held up by the 2019 election and then a delay in setting up the committee. It has been the longest hiatus since the committee was established in the early nineties.
After Boris Johnson nominated five Tory MPs for the committee last week – giving them a majority – it had been thought Chris Grayling was a shoo-in for the chairman position.
But it seems there was a coup. Opposition members of the committee were worried Mr Grayling would be too close to No 10, and decided to back Julian Lewis. It appears he then backed himself, thus securing a majority.
It's an embarrassment for No 10 who are widely thought to have favoured the former transport secretary. A spokesman said the decision was for the committee alone.
But it also suggests the members are determined to stay impartial – and paves the way for the publication of the long delayed report into alleged Russian interference in British democracy, which was completed last October but has been repeatedly delayed.
Mr Grayling held cabinet positions under David Cameron and Theresa May including Transport Secretary. Despite supporting Mr Johnson in the Conservative leadership election he was not given a role in government.
The other Conservative committee members are Sir John Hayes, Mr Lewis, Mark Pritchard, and Theresa Villiers. There are two Labour MPs – Kevan Jones and Dame Diana Johnson plus one Labour peer, Lord West of Spithead.
Stewart Hosie is the SNP's representative on the committee.
One of the first jobs of the newly formed committee will be to publish the Russia report.
The report includes evidence from UK intelligence services concerning Russian attempts to influence the outcome of the 2016 EU referendum and 2017 general election.
The delay in publication has led to speculation the report contains details embarrassing for the Conservatives, however minister Jacob Rees-Mogg said the hold up was due to a number of committee members leaving Parliament and the need "to make sure that the right people with the right level of experience and responsibility could be appointed".
Speaking in the House of Commons on Monday, Mr Jones said the report should be produced before Parliament goes into recess on 22 July.
"There's no reason why it shouldn't be. It's been through both the committee, it's been agreed through the redaction process, and it's been agreed by government," he says.