Sci-Fi Movie Watches : kross studio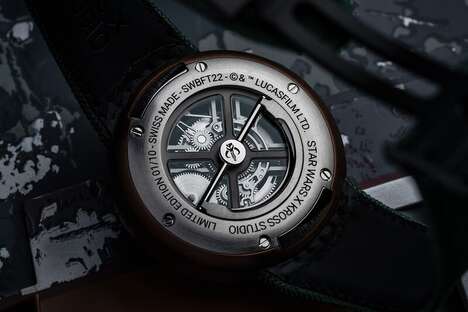 Kross Studio's latest themed watch set is inspired by May 4th, also known as 'National Star Wars Day.' The new tourbillon collector capsule is influenced by famous 'Star Wars' bounty hunter 'Boba Fett' and is limited to 10 sets.
The manually wound central tourbillon is just one of the collection's highlights. Others are a 45mm grade 5 titanium case, Boba Fett hour hand, and a hand-painted replica of 'Slave 1' on top of the tourbillon cage. EFX created the watch displays using aluminum, resin casts, and acrylic for fine details. A D-ring on the case back can control time-setting and winding, and consumers can swap out an embossed green polyamide strap for a calf leather or black rubber one supplied with the watch.
The 'Boba Fett Collector Set' is available now at Kross Studio's website.
Image Credit: Kross Studio