Special Edition Dark Sedans : 2023 camry nightshade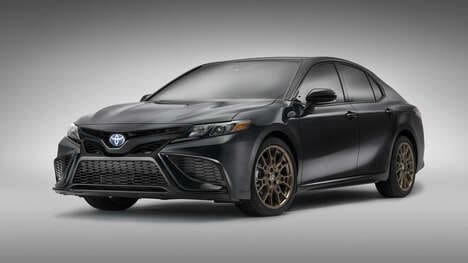 Toyota unveiled a limited edition upgrade for its Camry sedan titled the 2023 Camry Nightshade. This is an upgrade kit that brings a breadth of style changes to the eighth-generation car. Firstly, the paint job for this car is an ultra-dark matte black with a minimal shine. The wheel rims are now adorned in dark chromatic bronze, while the remainder of the metallic accents, such as the grilles, feature a shimmering black color.
The Toyota 2023 Camry Nightshade has excellent performance specifications for its price point. It boasts 208 horsepower with 182 pounds per foot of torque through its combined electric and gas-powered engines. The 2023 Camry Nightshade does not yet have a set price point, though Toyota confirmed that it will be available for preorder in the summer of 2022.
Image Credit: Toyota