Spherical Multifunctional Transportation Pods : Stratosfera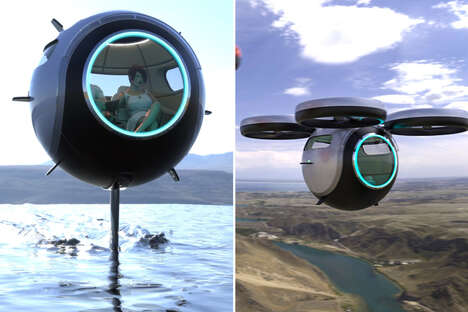 The 'Stratosfera' transportation pod has been conceptualized by the Lazzarini Design Studio as a vehicle that would offer passengers the ability to take to the sea and the sky at their leisure. The vehicle is called the Stratosfera Aquatica when in watercraft mode, while flight mode transitions the name to Stratosfera Volatile with both modes providing impressive power to propel passengers forward. The spherical pod would extend a hydrofoil to help it glide overtop of the water when on the sea and be paired with twin 150 horsepower electric jet engines when heading to the sky.
The 'Stratosfera' transportation pod is expected to be launched as an open-source project by the Jet Capsule company by mid-2022 to help further along the technology used to achieve it.