Summer Camp-Inspired Campaigns : neiman marcus summer camp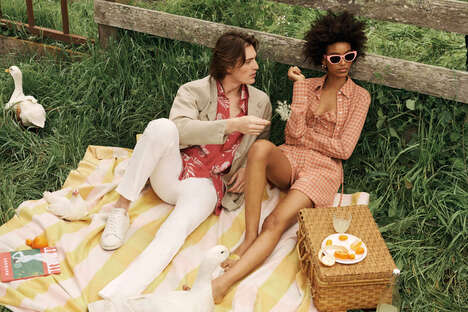 Neiman Marcus' Summer 2022 campaign is dubbed 'Neiman Marcus Summer Camp.' The camping-themed campaign was shot at an estate in California's Redwood Forest as well as in Texas and features over 200 brands in its visuals. This list includes names like Santa, Acler, Oceanus, Rebecca Vallance, Zegna, and Jacquemus, alongside other widely successful companies.
The photoshoot sees models playing with oversized Jenga blocks, having picnics, playing croquet, and more outdoor activities. Daz McColl, Chief Marketing Officer at Neiman Marcus, discusses the inspiration behind the campaign: "The campaign concept evokes our borrowed memory structures of fun summer camp experiences rich in childhood nostalgia with a fashion twist you expect from Neiman Marcus."
Neiman Marcus will have summer camp-themed 3D installations available at select locations, and plans to host live events like fireside chats and a camp restaurant special.
Image Credit: Neiman Marcus