Swirly Cereal-Themed Clogs : Cinnamon Toast Crunch Clog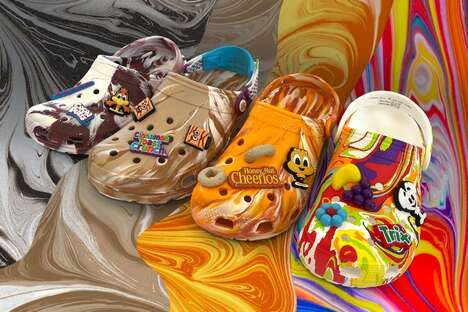 Iconic rubber clogs brand Crocs has partnered with American food producer General Mills to launch a limited-edition Cinnamon Toast Crunch clog. To mimic the look of a fresh bowl of Cinnamon Toast Crunch, the all-new silhouette features a white and tan colorway that is delivered in a swirly milk-and-cereal-like pattern.
In addition, the new cereal-themed clogs come equipped with a heel strap dressed in Cinnamon Toast Crunch's signature green, red, blue, and purple color scheme. What's more, the clogs come packaged with a series of branded Jibbitz charms, which include pieces such as a 3D cereal bow and specific Cinnamon Toast Crunch imagery.
For those interested, the limited-edition Cinnamon Toast Crunch clog was released on April 28 and is currently available at retail locations such as Footlocker, Champs, and Eastbay.
Image Credit: Crocs