Targeted CBD-Infused Body Balms : CBD Move Free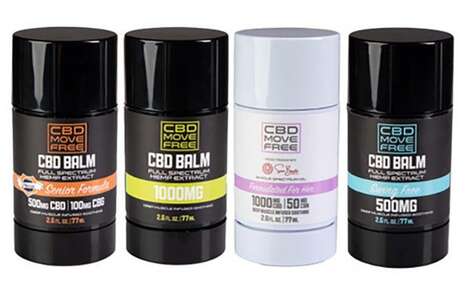 The CBD Move Free balms are a line of wellness products for consumers to choose when looking to naturally alleviate feelings of muscle tiredness, soreness, inflammation, joint discomfort and more.
The balms come in five varieties including 1,000mg, Formulated For Her, Senior Formula, Swing Free and Sanitizer to provide targeted benefits for the person. The products are suitable for quick use and come in an easy-to-dispense roller for applying them exactly where they're needed.
CEO and Co-Founder Jonas Roeser commented on the new CBD Move Free balms saying, "Our line truly has something for everyone — whether you're a working parent who needs a bit of extra help to make it through soccer practice after a long day, an athlete in your prime looking for natural relief, or you're in your 70s seeking a product to help you stay active. We're eager to continue innovating and producing unique CBD products for a variety of needs."