Ti64 Titanium Timepieces : MRG-B5000BA-1JR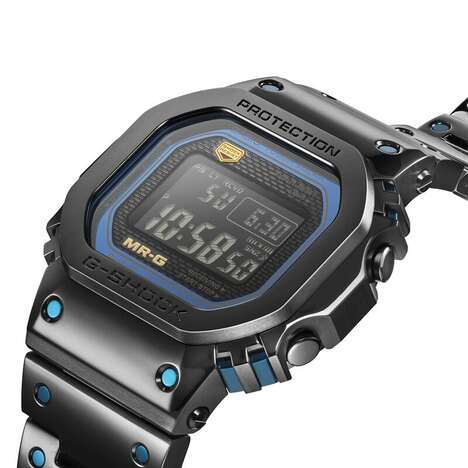 Casio has announced the launch of its newest MR-G series timepiece called the MRG-B5000BA-1JR and it features a slick black and blue titanium design scheme.
The new wristwatch makes heavy use of Ti64 titanium, which is three times stronger than regular grade titanium. This material is used throughout the design, on its case, buttons, strap, and back cover. In addition, the watch features a scratch-resistant Cobarion bezel, blue Ion-plated detailing, and an all-black DLC finish. Other notable features include a built-in stopwatch, world clock, timer, alarms, auto-calender, and LED backlighting. What's more, the watch comes equipped with a solar-powered battery that can last up to 22 months on a full charge.
For those interested, the MRG-B5000BA-1JR is currently only available to purchase in Japan but should receive an international release in the coming weeks.
Image Credit: Casio