Trendsetting Tourbillon Watches : Tourbillon Watches1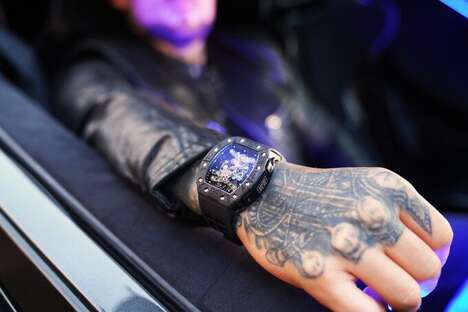 Daumier has created a brand new 'Skeleton Tourbillon' watch made of carbon fiber.
The high-quality carbon fire skeleton watches come with either black, red, or light blue bands. The cases are 316L stainless steel and covered in IP black coating. The watch has four engravements on the bezel at the 15,30,45, and 60-minute mark allowing wearers to read the time with a simple glance.
The watch was designed with the user's comfort in mind. It features a curved case design, allowing a better fit and greater comfort.
The timepiece boasts high-frequency Tourbillion movements through its bridge and hexagon-designed movement frames. It holds a power reserve of 36 hours and a frequency of 28800/ hour.
The brand is looking to reward early bird supporters. Those wanting to be one of the first 20 owners of these fashionable pieces can purchase them at a discount of $2038.
Image Credit: Daumier