Twin-Turbo Supercars : pagani huayra pc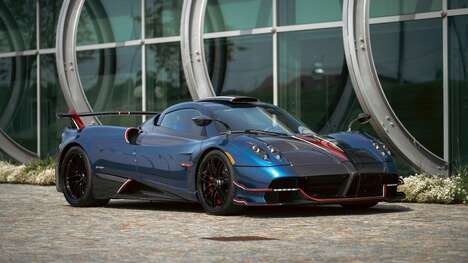 Pagani unveiled the Pagani Huayra PC, a one-off, twin-turbo supercar manufactured by Pagani Special Products (PSP). The supercar features a redesigned hull with a rocket-style roof with large indentations for ventilation. The car features four central exhaust pipes in a group, and a grille bumper for airflow. Additionally, the Pagani Huayra PC has a unique, sprout-like side-view mirror design that extends from the hood of the car. The paint job of the Huayra PC is a metallic dark blue with auburn red accents.
It is important to note that, while PSP stated that the vehicle delivers 819 horsepower, it did not outline the material specifications for this one-off Pagani Huayra PC. Given this, it is expected that the vehicle features the same internals as the previous Huayra, meaning it contains a twin-turbo V-12, capable of delivering a top speed of up to 236 miles per hour.
Image Credit: Pagani Special Products