Ultra-Luxurious Perfume Gift Sets : Perfume gift set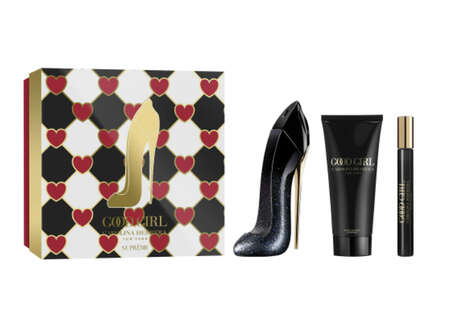 In the category of luxurious perfume gift sets, Carolina Herrera's offering definitely stands out not only because of its high-quality formulation but also due to its highly creative packaging design.
The Good Girl Suprême Eau de Parfum Gift Set is designed to suit the femme fatale aesthetic. The kit includes a 90 mL bottle of Carolina Herrera's Good Girl Eau de Parfum Suprême which comes in a bottle shaped like a high-heeled, elegant shoe. A 100 mL Good Girl Body Lotion and a seven mL Good Girl Eau de Parfum Miniature are also included as part of this sophisticated offering.
The scent, which is warm and spicy, combines juicy gourmand berries, intense Egyptian jasmine, creamy tonka beans, and sparkling vetiver. The formulation is an ode to the "duality of the modern woman."
Image Credit: Sephora