Ultra-Minimalist Watch Designs : conceptual Clean Watch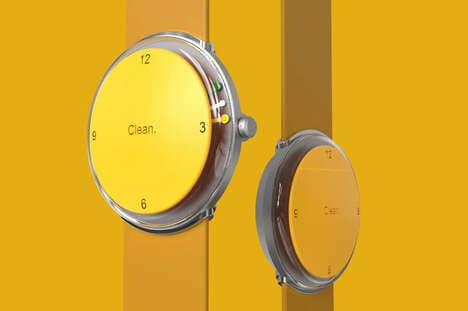 The conceptual 'Clean Watch' takes an extreme approach to accessory design for ultra-minimalists to enjoy in place of complicated alternatives on the market. The watch maintains a monochromatic design in either an eye-catching canary yellow, bright green or demure black which are each emblazoned with a minimalist series of indicators as well as the timepiece name. The hands on the watch are kept concealed with the monochromatic cover and visible only around the perimeter to make the process of telling time a bit cryptic.
The conceptual 'Clean Watch' is the design work of Ye Hongting (葉 泓廷) and takes a much different approach to timepiece aesthetics than the existing models out there. This highlights a more soothing approach to telling time rather than overloading the wearer with information.