Unscented Shave Soap Bars : Shave soap bar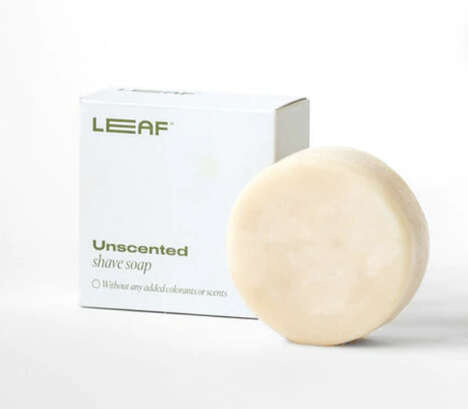 Connecticut-based lifestyle brand Leaf boasts a sustainable alternative to shaving with its Shave Soap Bar. The skincare product is highly eco-conscious as it does not contain any water—yet another contemporary offering that embraces the solid beauty product model which is becoming increasingly popular. It comes in a compostable paper box, as well.
The formulation of the Shave Soap Bar is vegan, cruelty-free, and plastic-free. It is also void of any harmful ingredients like petroleums, parabens, sulfates, and phthalates. It presents a great alternative for people who wish to switch to more sustainable lifestyle decisions.
Leaf—which is a brand that is Climate Neutral Certified and 100% plastic-free—claims that its Shave Soap Bar will produce a luxurious lather and "provide a lasting cushiony-glide." One's skin will be left feeling soft and moisturized.
Image Credit: Way of Being