Why are gyms and swimming pools still closed? And other questions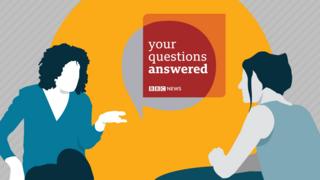 The prime minister has announced major changes to the lockdown in England from 4 July.
BBC News answers questions about these changes, and other issues concerning coronavirus.
Questions and answers
Latest questions
Your questions
Why are gyms, leisure centres and other fitness facilities being excluded from this round of restrictions when their links to improved physical and mental health are so obvious?

from James Shillaker in Burgess Hill

Nick Triggle
Health correspondent

It is a good question. Indoor gyms are obviously good for health and wellbeing, but there's concern Covid-19 transmission will be more difficult control in them because of the physical exertion by gym-goers, the damp conditions in changing rooms and the fact that social distancing is generally less easy.

The government hopes indoor gyms, swimming pools and spas – so called "close proximity" venues – can reopen in England later in July. But PM Boris Johnson says outdoor gyms and playgrounds can reopen from Saturday 4 July.

In Scotland, indoor gyms will only reopen in Phase Three of the country's Covid route map – which is not expected until mid-August. No dates have been set for the reopening of indoor gyms in Wales and Northern Ireland.

Can I travel to and stay in my second home? It's not a holiday home, I live in the Midlands, but work in the North East during the week. Travelling is not an option as it would mean an eight or nine-hour round trip every day.

From Mark Dunn in Cannock

Yes – from 4 July, you can stay in your second home in England for any reason.

Going on your own for work is fine, but if you were going for any other reason you could stay there in groups of up to two households (your support bubble counts as one household), as long as you maintain social distance from anyone you do not live with, or who is not in your support bubble.

From 29 June in Scotland, you can travel to a second home to check it is secure and in good condition. You should only stay there for as long as is reasonably necessary to make these checks, and you can't stay there for leisure. You can't visit a second home in Wales, but holiday accommodation in Northern Ireland is reopening from 26 June.

My daughter is a driving instructor. When will she be able to start teaching her students again?

from Valerie in Haslemere

Driving lessons have been suspended in England, Scotland and Wales, and there is currently no date fixed for them to start again. A similar situation is in place in Northern Ireland.

Other than emergency training and tests for critical workers, no driving instruction or driving tests are currently taking place. They have not been able to restart because the risk of transmitting the virus in a car is higher.

On 15 June, the chief executive of the Driver and Vehicle Standards Agency (DVSA) wrote to approved driving instructors in England, Scotland and Wales to update them on the situation.

He said that "driving instruction and tests will only restart when the government is confident that the assessment of risk warrants it" but that the DVSA was "working extremely hard… to make sure we're in the best possible position to restart our services as soon as it's safe to do so".

The number of new cases may have fallen to pre-lockdown levels. But the virus is still equally contagious and has the potential to spread exponentially – just as it did before lockdown. So what's changed?

from Tomas René in Hastings

Nick Triggle
Health correspondent

Lockdown is essentially a blunt tool. With the testing and tracing system now in place, the idea is to be much more forensic in trying to contain the virus.

The government now has the capacity to carry out 200,000 tests a day – in March it was only a few thousand. We now have an extensive network of contact traces.

On top of this, social distancing continues and lots of measures – like face coverings, and screens in shops – will limit the spread of the virus. So the picture is significantly different from how it was in March.
End of Latest questions

Support bubbles
Your questions
When will people be allowed to resume physical contact with a loved one in a bubble scenario? I miss my boyfriend of 18 months as we live apart.

from Sue in Chester

If you and your boyfriend both live alone and in England, the good news is that from 13 June, you can form a support bubble, which means that you can spend as much as time as you want in each other's company, inside or outside a house. You don't have to keep a 2m distance from one another, and you can stay overnight at each other's house.

If you are living alone, and your partner is in a shared household (or vice versa), matters get complicated. You can still form a support bubble with your boyfriend but it will also be with his household, and it would be the only bubble allowed to that household.

What this means is that if one of your boyfriend's housemates has a partner who is – like you – living elsewhere and alone, that couple will be prevented from meeting up.

Support bubbles are for the benefit of people who are living alone (or alone with children). If both you and your boyfriend are living in shared households, you are not allowed to form one and you are restricted to meeting outdoors and at a distance of 2m from each other.

You cannot form a support bubble with your boyfriend if he lives in Scotland or Wales, although Northern Ireland has announced that it is also introducing support bubbles from 13 June..

Can I have my grandson overnight? I am a single grandparent living on the ground floor in my own house, however I have a lodger who lives on the second floor.

from Teresa

As a single grandparent, you will have the right to form a "support bubble" with your grandson and his family.

Under the government's new guidance, from 13 June your grandson would be able to stay at your home, including overnight, and would not need to keep a 2m distance.

However, the complicating factor here is your lodger. Are you maintaining a 2m distance from each other, and are you using separate rooms and facilities? If the answer is yes, then there should be no problem.

On the other hand, if you have been using the same kitchen, living room and bathroom, and eating from the same crockery and cutlery as your lodger, then you are both effectively part of the same household, and you do not qualify to be part of a support bubble.
End of Support bubbles

What do I need to know about the coronavirus?
---
What questions do you have about coronavirus? Do you want to ask it on BBC News? Get in touch and we may ask you to send us a video of you asking your question.
In some cases, your question will be published, displaying your name, age and location as you provide it, unless you state otherwise. Your contact details will never be published. Please ensure you have read our terms & conditions and privacy policy.
Use this form to ask your question: